Comprehensive program for public speakers
This extensive academy is here for your long-term development in the field of presentation design and public speaking skills.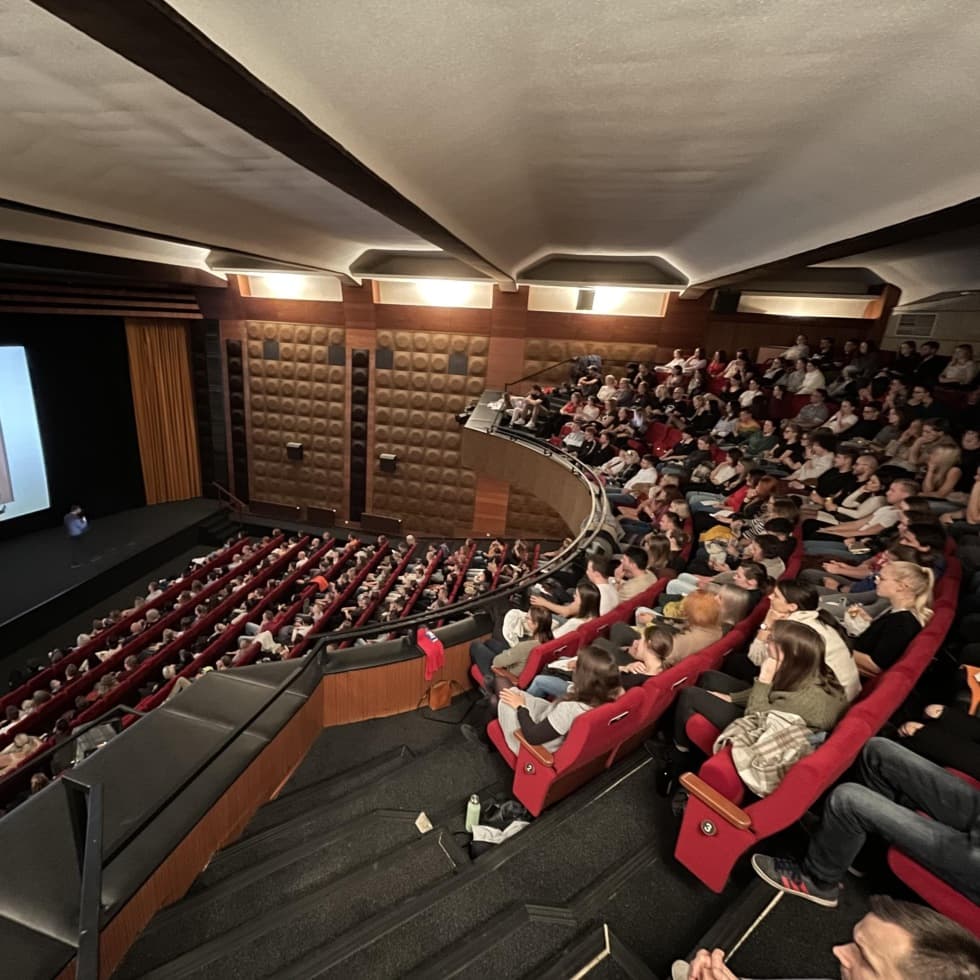 Academy for professional speakers
and presentation designers.
If you are interested in building and developing overall presentation skills of your colleagues, you might want to take advantage of this long-term thorough training program focused on public speaking and modern presentation creation.
This intensive developmental program closely integrates three educational modules focused on the area of public speaking into one comprehensive academy, enabling sustained and long-term development of your colleagues' presentation skills.
Education in various fields of human knowledge begins from childhood. We aspire to expertise and competence. Elite athletes train for years to reach the top in their discipline. The art of persuasive presentation that can captivate the audience's hearts is a skill like any other. With enough time and diligence, reaching an expert level in this skill is achievable.
The goal of the program is to enable participants to elevate their skills to a higher level, understand the principles of public speaking, and launch their careers as top-notch speakers and presentation designers.
What does typical Academy look like?
Participants regularly meet within a pre-defined time frame and, with the assistance of the instructor, work together on developing their public speaking skills. These meetings typically last for 3-4 hours and are conducted once every 14 days. This way, participants spend only half a day on the training, while the rest of the day is dedicated to their work duties. This method has proven to be very effective for both the participants and the client.
The duration of the development program varies; the shortest academy took 3 months, while the longest, at the participants' request, lasted for 24 months.
During each session, participants come prepared with a presentation, public speaking exercise, or design task, for which they receive feedback and then continue to refine it throughout the training. The entire group is guided to provide constructive feedback on each other's presentations or created designs, all under the supervision of the instructor. These assignments are tailored to reflect the participants' work responsibilities, ensuring maximum applicability to their daily practice.
Presentations are recorded, and the created slides are stored. Participants have access to their files throughout the entire program. This allows them to track their progress and, if desired, share recorded videos with the client to analyze the impact of the academy on their development.
Educational modules
The academy can be composed of the following main modules.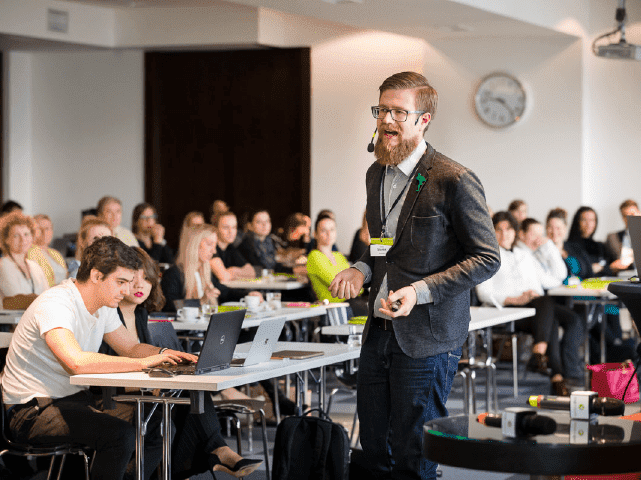 Presentation skills and Storytelling
An overview of the art of public speaking and rhetoric, including chapters focused on the first steps in preparation, structuring presentations, nonverbal communication, vocal variability, and many others.
Participants are introduced to the storytelling system for creating content, word choice, and delivery of presentations.
The module is enriched with advanced public speaking techniques and tools, handling challenging audiences, and improvisation.
Special emphasis is given to methods that help speakers deal with stress and nervousness during presentations.
Skills development is recorded on video, which also serves for frequent feedback sessions.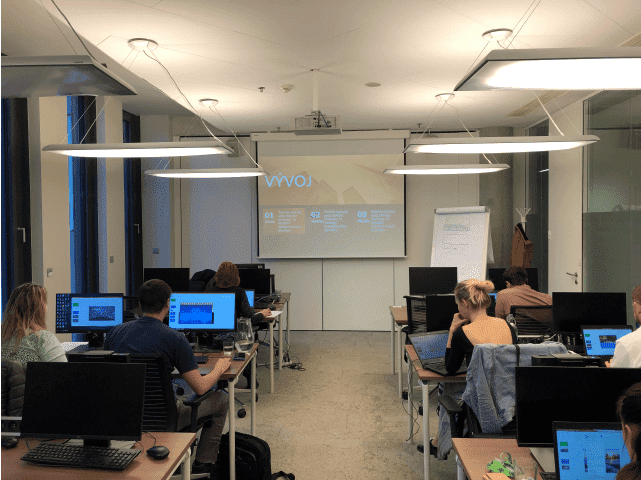 Presentation design
and Data visualization
A module focused on the principles of visual communication and creating extraordinary and visually effective presentations.
In addition to learning the rules of presentation design and their practical implementation, participants will also acquire the use of many interesting and useful tools for their future creations.
Participants will boost their creativity, which they can later apply in other areas of their professional life. They will also start looking at the entire presentation creation process in a completely new way and significantly speed up their work with presentation software.
If interested, participants will have access to extensive video materials, providing inspiration, easing the learning process, and always being available to them.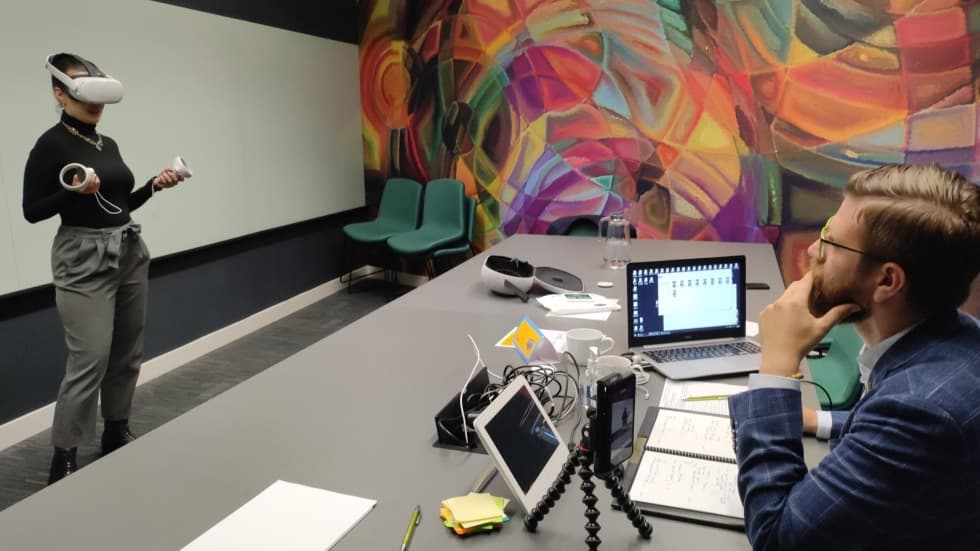 Individual training and extensive personal consultations
Each of us has individual needs, and a personal approach to each participant is extremely important, especially when implementing an educational program. That's why individual coaching under the guidance of an instructor is included in the academy.
These personal consultations are tailored directly to the individual's needs. Throughout the sessions, modern technologies and approaches are utilized as needed, such as presenting in virtual reality.
For preparation for conference presentations, participants can practice with different types of microphones, choosing the one they prefer.
However, it's not just about training sessions; mentoring focused on overall personal development of the speaker, brand building, and uniqueness is also part of the program.
Is the content predetermined?
The exact content is tailored to the specificity of the organization, your needs, and, last but not least, the participants of the entire educational program. The academy can be designed purely for presentation skills, design-oriented, or comprehensive, focusing on both public speaking and creating visually captivating presentation slides.
If you are considering the implementation of a development program focused on presentation skills but are unsure which modules are right for you, I will be happy to discuss your needs and together, we can customize the academy.
Among the projects I have already completed, there are representatives of all three mentioned alternatives. It is entirely up to you which options you decide to utilize and which modules you choose.
Get this program right now!
Are you interested in the possibility of comprehensive education in presentation skills? Let's schedule a meeting or a call.